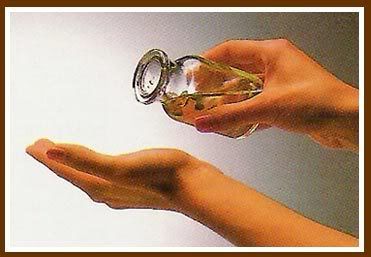 As you come to work on each new part of the body, you begin by oiling it. This allows you to slide your hands smoothly and evenly over the contours without any risk of friction or jerkiness. It also nourishes the skin. Many people initally overestimate how much oil is needed - in fact, only a thin film is sufficient to lubricate the skin. If your partner's body is swimming in oil,
you will be unable to make proper contact. For most parts of the body, a single application of oil is all that is necessary. But for larger expanses, like the back, or hairy areas, such as the front of the legs, you may need to apply extra oil. Since most oils are quickly absorbed by the skin, each part of the body is oiled seperately, rather than all at once, with the oil rubbed into the skin by long gliding strokes.

Oils and Containers
There is no need to buy ready-made massage oils, which tend to be expensive. You can equally well use a vegetable oil, such as sunflower, safflower or coconut. Almond oil is very pleasant, though costly, while olive oil tends to be a little viscous. You can also use mineral oils, such as baby oil, though these are less easily absorbed. If you do use a plain oil, you may like to scent it with a few drops of perfume or lemon juice. In aromatherapy, essential oils containing plant hormones are rubbed into the skin for specific therapeutic purposes. Sandalwood, jasmine, orange blossom and tangerine all have a relaxing and tonifying effect on the nervous system; sage is good for muscular problems. Keep your oil in corked bottle or a flip-top plastic bottle. The latter are more convenient as they are less likely to spill during a session. If you have nothing else, a bowl saucer will do, but you must be careful not to knock it over.

Applying Oil
Holding your hands away from your partner's body, pour a little oil into one palm. Rub your palms together to spread the oil, then bring them gently down and begin to apply the oil, using the long stroke.